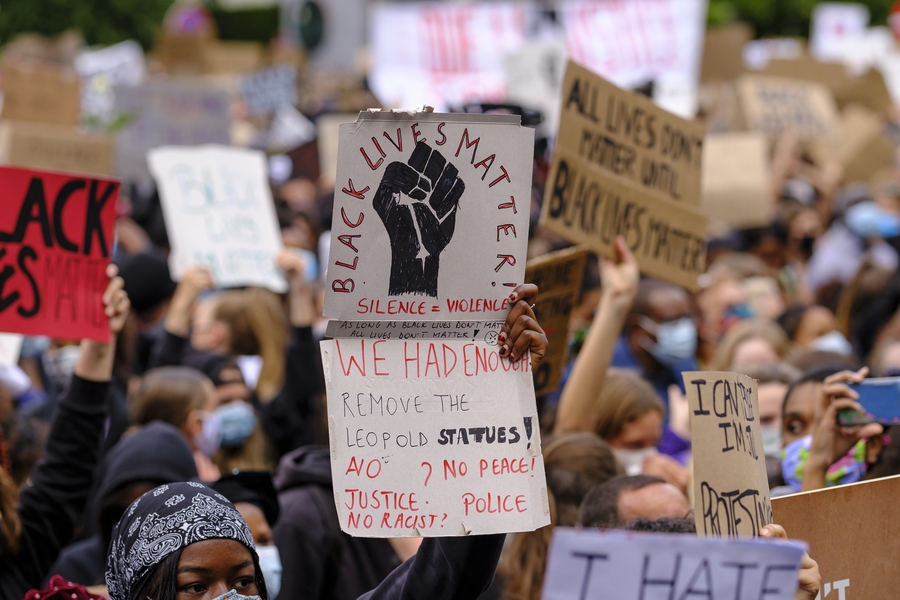 Thousands gather for a Black Lives Matter protest in Brussels (Photo by Thierry Monasse/Getty Images).




In early September 2020, seven political parties agreed to start talks on forming a government - the French- and Dutch-speaking liberals, socialists, greens as well as Dutch-speaking Christian democrats.
Association
Ligue des Droits Humains (LDH - Belgian Human Rights League) and Liga voor mensenrechten (Liga) have launched a crowdfunding campaign to support their 'House of Human Rights' initiative, a project dedicated to promoting rights and freedoms in Belgium.
The two Belgium-based NGOs decided to purchase a building together in the suburbs of Brussels. The creation of the house is seen as a historical moment, symbolising the end of identitarianism and a genuine will to work together for the same goal. Liga's president Kati Verstrepen stated:
"LDH and the Liga are taking the lead role and uniting to create a Human Rights House in Brussels. Because rights are universal. Because they transcend borders. This project is a dream that is coming true and we need everybody's support to succeed."
Peaceful Assembly
Students protest over headscarf ban
On 5th July 2020, about a thousand Brussels students staged a protest under the name of #HijabisFightBack, at Mont des Arts over a headscarf (Hijab) ban at Brussels university college. The protests come after the Constitutional Court ruled that the headscarf ban imposed by the Fransisco Ferrer university college is permitted and does not infringe on religious freedom. This ruling means that all universities are allowed to enforce the headscarf ban, though some have chosen to defy this rule. The demonstration was organised by the feminist collective Imazi Reine, the collective Belge Comme Vous and the non-profit organisation La 5e vague. In a statement the organisations said:
"This judgment only reinforces pre-existing barriers towards women in Belgium who made the conscious, free, proud and serene decision to wear a headscarf."
"A headscarf ban means a serious impact on the right to education and the right to self-determination. Hundreds of students may have to give up their studies. Making decisions about what I can wear cannot happen without me sitting at the table," - Fatima Zohra Ait El Maâti of Imazi Reine.
Over ten thousand gather for BLM protests
Earlier, in early June 2020, following the death of George Floyd, a Black man, by a Minneapolis police officer on 25th May 2020, which sparked massive protests on police brutality in theUSA, thousands of protesters took to the streets of Brussels to express their support for the Black Lives Matter (BLM) movement. According to local police, an estimated 10,000 people gathered outside the Palace of Justice. Although the demonstration was not officially authorised by the city of Brussels, it was "tolerated", according to a spokesperson for the mayor.
Most protesters were reportedly wearing face masks, but social distancing guidelines were not followed, given the great number of people in attendance. In addition to showing solidarity with the Black Lives Matter movement and George Floyd's murder in the USA, protesters were also calling for Belgium's own controversial colonial past to be addressed. In addition, the protest sought to highlight complaints about police violence and racial profiling which still take place in the country today.
The protest was peaceful for the most part, however, a confrontation between the demonstrators and police erupted towards the end of the event. Authorities deployed the use of water cannon to disperse demonstrators in response to alleged looting, throwing of objects at officers and the setting alight of vehicles and rubbish bins. According to Mayor Philippe Close, at least 150 protestors were arrested on the day.
Nevertheless, Close also expressed his solidarity, tweeting that:
"like other world cities such as Rome, London, Paris or Madrid, Brussels as the capital of more than 400 million Europeans could not remain blind to the global emotion that arose over the death of George Floyd."
Police violence in Belgium is an ongoing concern. A campaign to collect accounts and shared experiences of police violence during the coronavirus lockdown has recently been published by Police Watch, the Ligue des Droits Humains (LDH- Belgian Human Rights League) and the observatory on police abuse of LDH. In the space of two months, over 100 testimonies have been collected, which were then analyzed and published in the form of a report.
Although the report does not claim to be statistically representative, it does reveal that police violence is a grave concern in Belgium. Furthermore, LDH found some worrying statistics, including that 98% of reported police abuses took place in the most disadvantaged areas of the country and that 53% of respondents believe they were subjected to discriminatory treatment.
The Police Watch report also serves to disprove the statement made by the Minister of the Interior and Security, Pieter De Crem on 20th June 2020, which states that "there is no structural racism problem within the police." He further claimed that very few race-related complaints are submitted to the Police Committee and added that "most of the complaints are considered unfounded".
Protests related to COVID-19 measures
On 6th September 2020, at a demonstration in Brussels against coronavirus measures, two people were arrested and a handful of protesters were fined.
Around 350 people participated in the event and held signs like "let me breathe' or 'live your life, the epidemic is over". Although this was below the permitted maximum of 400 people gathering outdoors, the police put an end to the demonstration as they reported that the participants were not respecting social distance rules and were not wearing face masks.
Later that day, around 1,200 people from the cultural and event sectors protested in the Belgian capital in bubbles of 400 people to respect safety measures. They demanded that discotheques, cinemas, circuses, catering and other sectors be gradually reopened. No altercation with the police was reported.
Belgium is still experiencing a rather high number of new infections. In a country of 11 million, an average of 445 people per day tested positive in the first week of September 2020.
Expression
On 11th August 2020, Facebook updated its hate speech policy and introduced a ban on images of blackface and anti-Semitic tropes. Blackface is a controversial subject in Belgium (and the Netherlands) because of the "Zwarte Piet" (Black Pete) practice, a Christmas tradition of donning blackface.
The Zwarte Piet character appears around the winter holiday season in Belgium as Sinterklaas' (Saint Nicholas) black helper. People parading traditionally wear blackface, curly wigs, red lipstick, and often large golden hoop earrings as part of the celebrations.
In reaction to this decision, the far-right Vlaams Belang party has accused Facebook of censorship for banning photos of people dressed up as Zwarte Piet. The party has declared the social media site's decision an "attack on [Belgian] traditions in the name of over-political correctness" and has announced that it will be demanding the European Commission's involvement.
Several human rights groups have welcomed Facebook's decision to monitor offensive content. Jerry Afriyie, an activist and co-founder of the "Zwarte Piet is Racism" campaign, claimed that the media site has intervened when politicians have failed to do so.
The Zwarte Piet tradition has been the subject of controversy for decades now. The debate around the character has especially resurfaced in the context of the Black Lives Matter movement, with more and more people calling for the tradition of donning blackface to be abolished.
The pressure to confront Belgium's colonial legacy in central Africa has been growing in the country for years, but in the summer of 2020 it reached never before seen heights, propelled by the Black Lives Matter movement. Statues of slave owners, colonial lords and kings were defaced all over the US and Western Europe. In Belgium, the statues of King Leopold II were the primary targets of protests. As of early September 2020, over 84,000 people had signed a petition to remove all these statues from across the country.